"My work is highly personal wearable sculpture that is in conversation with
my emotional and preconscious self. I grapple, hammer and negotiate to
make the ideas and images, the bone, the metal, the wood, the stones, and
whatever other shiny objects join the fray, to construct a wearable totem or
body decoration. It¹s a compelling activity that¹s hard to match."
~Susan Chin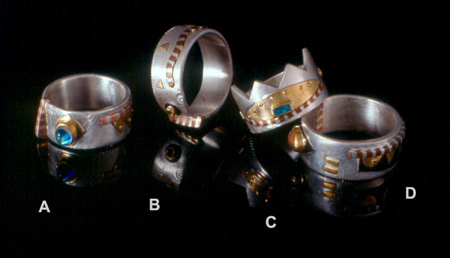 Wide Bands


A,B,D. Sausalito Bands. Original - Fine silver, copper/ sterling silver mokume, shakudoo, 18K gold, 22K gold, rainbow moonstone. $420

Also with moonstone and 2mm faceted stone. $460

C. Advanced Crown Ring. Fine silver, 18K gold, 22K gold, copper/ sterling silver mokume, semiprecious stone. $450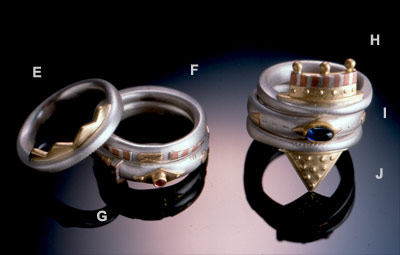 Stacking Bands
Worn singley or in sets....fine silver, or 18K gold, contoured bands with 18K gold, 22K gold, and palladium/sterling silver or copper/sterling silver mokume designs...some with stones.

E. Crown Band. $310

F. Copper-X. $230

G. Oval Band. With 2mm colored stone, striped snake in back. $350

H. Turret Band. 18K gold, sterling silver, copper/silver mokume. $300

I. Oblong Stone Band. $280

J. Spotted Top Gable Band. Gold top with dots. $300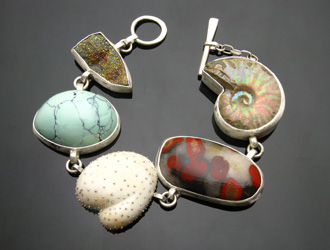 K.

K. Ammonite Chunk Bracelet. Ammonite, poppy, jasper, bone, varisate, marcasite, silver. $1440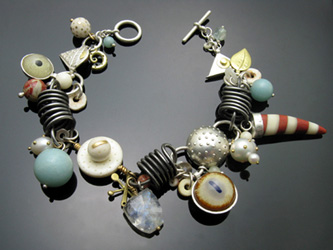 L.

L. Charm Bracelet H. Sterling silver, steel, 18ky gold, glass eyes, aventurine, bone, pink ivorywood, freshwater pearls, rainbow moonstone, jasper, etc. Length 7.5". $1800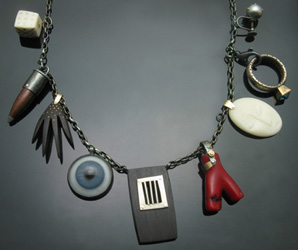 M.

M. Jailbait Necklace. Oxidized sterling silver, 18ky gold, ebony, coral, bone, glass manikin eye, freshwater pearl, london blue topaz, copper bullet. (Red coral component is 3.5 cm in length.) $2400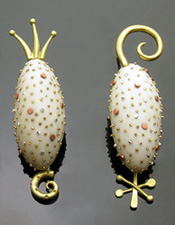 N.

N. ChubbyBbone Earrings. Bone with 18ky gold, silver, copper. $1700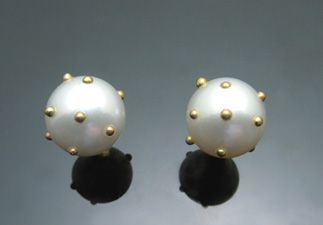 O.

O. Small Dotted Studs. Freshwater pearls (8mm diameter), 18ky gold, 14ky posts. This design is available in a range of pearl colors, types and sizes. $380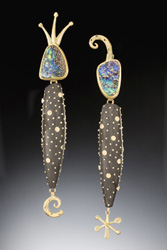 P.

P. Philomena Earrings. Ebony, 18ky, Australian boulder opals, 22ky, 2.5" $1100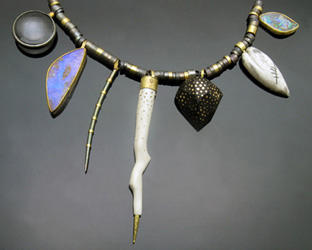 Q.

Q. Examined Life necklace. Oxidized sterling silver, 18ky and 22ky golds, bone, ebony, australian boulder opals, glass lens (Bone element is 3.5 cm in length.) $3200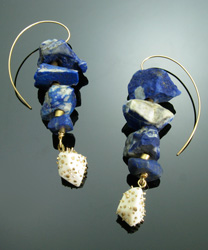 R.

R. Chunky Lapis Earrings. $920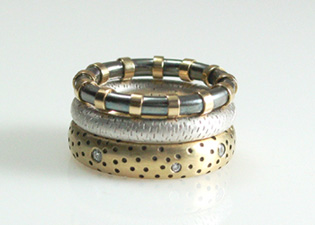 S.

S. Textured stacking bands. Sterling silver, 18k yellow gold, diamonds.
Top: $420
Middle: Silver texture tire $140
Bottom: Polka dot diamonds $2920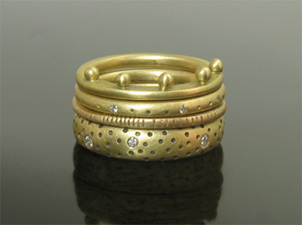 T.

T. Wyo Stacking Bands. 18k yellow gold, white diamonds.
Top: Call for price
Upper Middle: Call for price
Lower Middle: Gold coin edged $520
Bottom: Polka dot diamonds $2920



Prices may vary dependent on market fluctuations in the cost of materials. Please call the store for prices.

See Susan's Resume


Creative Metalsmiths, Inc. ©2003-2005
Designed by Dancin' Moon Web Designs