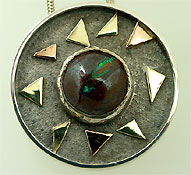 #16
Silver & Gold Opal Amulet
Don H. Johnson
14K & 18 K Green, rose, white gold
$2070 SOLD

#17
Sapphire Earrings
Kim Maitland
14K, Palladium white and yellow gold
$1260 SOLD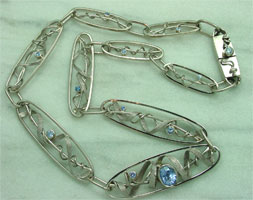 #18
Sapphire Necklace Vine & Trellis Series
Kim Maitland
14K & 18K Palladium white gold
$9840


#19
Sapphire and Diamond Crescent Earrings
Kim Maitland
14K Rose, white, yellow and green gold
$1600



#20
Ruby Wreath
Kim Maitland
14K & 18K Yellow and white gold
$1400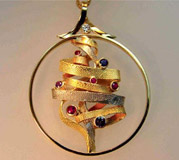 #21
Rubies, Purple Sapphires & Diamond Tree of Life Pendant
Kim Maitland
14K Rose, white and yellow gold
$2760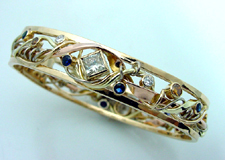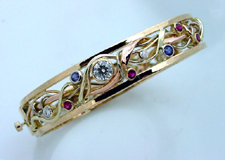 #22
Custom Vine and Trellis Bracelet
Kim Maitland
14K Rose, white, yellow and green golds forged and woven, oval 11MM wide, with 1.5 x 1.5 yellow bar stick. Two sided with
1.0 Ct. Brilliant Round Diamond on one side with Purple Sapphire and Ruby bezel set side stones; opposite side has 1.10 Ct. Square Diamond flanked by Blue Sapphire and Canary Yellow Diamonds. Box clasp on side with Diamond catch.
View close-up of Diamond Clasp
Call for price.

Prices may vary dependent on market fluctuations in the cost of materials. Please call the store for prices.
Creative Metalsmiths, Inc. ©2003-2005
Designed by Dancin' Moon Web Designs