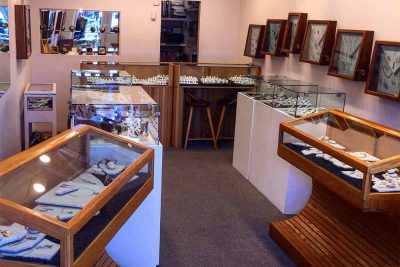 Creative Metalsmiths represents a distinguished group of nationally recognized art jewelry designers. Specializing in one-of-a-kind designs since 1978, Creative Metalsmiths gained renown as one of the few premier all-metals galleries in the southeast.  Our artists have won numerous awards for metalwork and jewelry designs over the many years.
The mission of our gallery is to promote unique metalwork and the artists who create it, in a fashion that encourages and educates collectors and those who are interested in fine, handcrafted limited edition and one-of-a -kind pieces. We host one or more feature exhibitions each year to promote singular metalsmithing to our public. Please see our website gallery exhibits calendar for dates of upcoming exhibitions.
Artisans at Creative Metalsmiths also specialize in wedding and engagement rings, custom designs and one-of-a-kind pieces created with precious and semi-precious stones, silver, platinum, and high karat golds. We also are happy to feature a line of mokume gane wedding bands. All of our work is individually hand fabricated with no replication by casting involved. Please visit our website at www.creativemetalsmiths.com or contact us by phone concerning current inventory and custom orders for your special occasions or general interest. We are happy to provide upon request, photographs of newly arrived pieces that are not yet "on view" in our online gallery to suit your special occasions, needs, or desires.
The talented artisans represented at Creative Metalsmiths are proud to be members national organizations such as the Society of North American Goldsmiths, American Craft Council, Piedmont Craftsmen's Guild, The Enamelist Society, and Carolina Designer Craftsmen's Guild.
We Invite you to stop by our store to see our complete collections of outstanding handcrafted jewelry, wedding bands in mokume gane, colored golds and platinum and engagement ring sets, along with our collection of loose gemstones. We are happy to arrange dedicated appointment times to discuss and collaborate on designs to suit your need, occasions, and pleasure.